Books
Debates on Colonial Genocide in the 21st Century
By Marouf  Hasian Jr.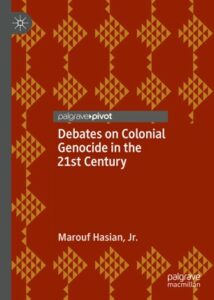 This book analyses the debates on colonial genocide in the 21st century and introduces cases where states are reluctant to acknowledge genocides. The author departs from traditional studies of the work of Raphael Lemkin or U.N. definitions of genocide so that readers can examine genocide recognition as a political act that is bound up in partial perceptions and political motivations. The study looks at the Tasmanian genocide, Al-Nakba, and several other tragic events. It also looks at the ways that these historical and contemporary debates about colonial genocides are related to today's conversations about apologies and other restorative justice acts. This work will be of interest to a wide range of audiences including researchers, scholars, graduate students, and policy makers in the fields of political history, genocide studies, and political science.
Marouf A. Hasian, Jr. is Professor in the Department of Communication at the University of Utah, USA. He is the author of Restorative Justice, Humanitarian Rhetorics, and Public Memories of Colonial Camp Cultures (Palgrave Macmillan, 2014).
For more information, click
here
.