Books
The End of the Ottomans: The Genocide of 1915 and the Politics of Turkish Nationalism
Edited by Hans-Lukas Kieser, Margaret Lavinia Anderson, Seyhan Bayraktar, and Thomas Schmutz.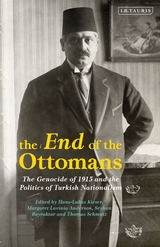 In the early part of the twentieth century, as Europe began its descent into the First World War, the Ottoman world – once the largest Empire in the Middle East – began to experience a revolution which would culminate in the new, secular Turkish state. Alongside this, in 1915, as part of an increasing nationalism, it enacted a genocide against its Armenian citizens. In this new study, Hans-Lukas Kieser marshals a dazzling array of scholars to re-evaluate the approach and legacy of the Young Turks – whose eradication of the Armenians from Asia Minor would have far-reaching consequences. Kieser argues that genocide led to today's crisis-ridden Middle East and set in place a rigid state system whose effects are still felt in Turkey today.Featuring new and groundbreaking work on the role of bureaucracy, the actors outside of Istanbul and re-centreing Armenian agency in the genocide, The End of the Ottomans is a vital new study of the Ottoman world, the Armenian Genocide and of the Middle East.
Hans-Lukas Kieser is Professor of Modern History at the University of Zurich, Switzerland, and president of the Switzerland-Turkey Research Foundation in Basel.
Margaret Lavinia Anderson is Professor Emerita of Modern History at the University of California, Berkeley, USA.
Seyhan Bayraktar is Senior Lecturer at the University of Basel, Switzerland.
Thomas Schmutz is a scholar based at the University of Zurich, Switzerland.
For more information, click here.