Books
Steeped in the Blood of Racism: Black Power, Law and Order, and the 1970 Shootings at Jackson State College
By Nancy K. Bristow.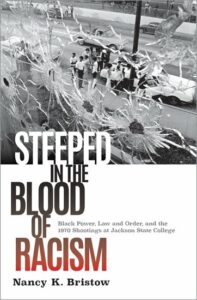 Steeped in the Blood of Racism explores the essential role of white supremacy in causing the shootings and shaping the aftermath. By 1970, even historically conservative campuses such as Jackson State, where an all-white Board of Trustees of Institutions of Higher Learning had long exercised its power to control student behavior, were beginning to feel the impact of the movements for African American freedom. Though most of the students at Jackson State remained focused not on activism but their educations, racial consciousness was taking hold. It was this campus police attacked. Acting on racial animus and with impunity, the shootings reflected both traditional patterns of repression and the new logic and rhetoric of "law and order," with its thinly veiled racial coding.
In the aftermath, the victims and their survivors struggled unsuccessfully to find justice. Despite multiple investigative commissions, two grand juries and a civil suit brought by students and the families of the dead, the law and order narrative proved too powerful. No officers were charged, no restitution was paid, and no apologies were offered. The shootings were soon largely forgotten except among the local African American community, the injured victimized once more by historical amnesia born of the unwillingness to acknowledge the essential role of race in causing the violence.