Books
Special Issue of Continuum: 'The Perpetrator of Crimes Against Humanity in Global Documentary Film'
Edited by Fernando Canet.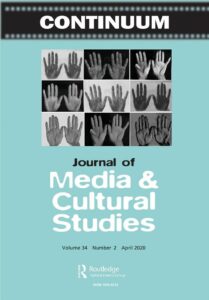 This special issue of Continuum: Journal of Media & Cultural Studies sets out to explore how the figure of the perpetrator of political violence is represented in recent documentary film (2000–2019) across a broad variety of cultural and political contexts.
The special issue features a comprehensive introduction contextualizing the study of what Fernando Canet calls 'perpetrator documentary film' within the broader field of perpetrator studies. Moreover, the issue features nine articles by thirteen contributors from different disciplinary backgrounds – among them, Michelle E. Anderson, Daniela Jara, Lior Zylberman, Janet Walker, Shmulik Duvdevani, Raz Yosef, Antonio Traverso, Mick Broderick, Didem Alkan, Oki Rahadianto Sutopo, Javier Moral, Gerd Bayer, and Fernando Canet. The articles explore documentary films that engage with the figure of the perpetrator of crimes against humanity in the following contexts: Indonesian, Cambodian and Rwandan genocides, Chilean and Argentine dictatorship, Spanish Civil War and its aftermaths, Israeli-Palestinian conflict, Nazi legacy, South African Apartheid and USA's state perpetrations.
Fernando Canet is associate professor in film and media studies at the Fine Arts College (Polytechnic University of Valencia, Spain). He has been a visiting research fellow at the Goldsmiths College (University of London), at New York University and at the University of Kent. He is the author of two books, co-author of another book about film narrative, and co-editor of three books.
For more information on the special issue, click here. For more information on Continuum, click here.