Books
Die fotografische Inszenierung des Verbrechens: Ein Album aus Auschwitz
By Stefan Hördler, Tal Bruttmann, and Christoph Kreutzmüller.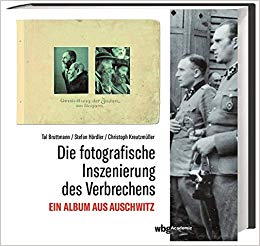 This book offers the first critical analysis of photographs taken in the concentration camp of Auschwitz-Birkenau. The photographs, also known as the "Auschwitz-Album," were discovered by Lili Jacob in the concentration camp Dora-Mittelbau in 1945. The photographs, taken by SS photographers Bernhard Walter and Ernst Hofmann, were never meant as propaganda material but document the various processes in Auschwitz-Birkenau. So far the book has not been translated to English.
Stefan Hördler is a lecturer and Postdoctoral Research Associate at the Institute for Economic and Social History, University of Göttingen. Tal Bruttmann is a researcher whose work focuses on the various anti-Jewish policies implemented in France between 1940 and 1944 and he has co-published the book Microhistories of the Holocaust (2016). Christoph Kreutzmüller is a historian working for the Haus der Wannsee Konferenz and has curated exhibitions for the Jewish Museum in Berlin.
For more information, click here .