Books
Imagining the Unimaginable: Speculative Fiction and the Holocaust
By Glyn Morgan.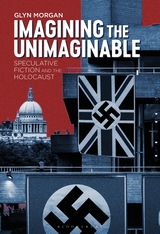 Imagining the Unimaginable examines popular fiction's treatment of the Holocaust in the dystopian and alternate history genres of speculative fiction, analyzing the effectiveness of the genre's major works as a lens through which to view the most prominent historical trauma of the 20th century. It surveys a range of British and American authors, from science fiction pulp to Pulitzer Prize winners, building on scholarship across disciplines, including Holocaust studies, trauma studies, and science fiction studies.
The conventional discourse around the Holocaust is one of the unapproachable, unknowable, and the unimaginable. The Holocaust has been compared to an earthquake, another planet, another universe, a void. It has been said to be beyond language, or else have its own incomprehensible language, beyond art, and beyond thought. The 'othering' of the event has spurred the phenomenon of non-realist Holocaust literature, engaging with speculative fiction and its history of the uncanny, the grotesque, and the inhuman. This book examines the most common forms of nonmimetic Holocaust fiction, the dystopia and the alternate history, while firmly positioning these forms within a broader pattern of non-realist engagements with the Holocaust.
Glyn Morgan obtained his PhD from the University of Liverpool, UK. He is a founding co-organiser of the Current Research in Speculative Fiction conference series and a former editor of Vector: The Critical Journal of the British Science Fiction Association, and he frequently writes reviews for journals including the Los Angeles Review of Books, Science Fiction Studies Review, and European History Quarterly.
For more information, click here.