Books
Victim, Perpetrator, or What Else? Generational and Gender Perspectives on Children, Youth, and Violence
Edited by Doris Bühler-Niederberger and Lars Alberth.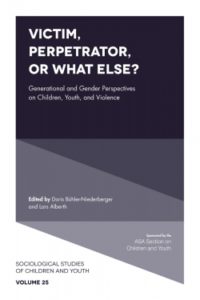 Children, while being the most victimised group in society, rarely become a topic of sociological research, neither as victims nor as perpetrators. The sociological discussion on power and violence happens beyond generation as an important dimension of social structure, and in many respects also beyond gender aspects that are inseparably linked to generational violence. This is a severe omission when the extent of violence in a society needs to be understood, as well as the structures and processes perpetuating violence or opposing its abolition. It is also a serious obstacle when understanding the position of children and exploring the social meaning of childhood.
This volume addresses this blind spot in sociology. It does so by mapping the ways that children and young people are considered victims or perpetrators by their societies and consequently the ways that their societies react. The chapters analyse a variety of phenomena in different countries of the Global North and South. All of these phenomena may be considered to include acts of violence toward children and adolescents, or those committed by them. Thus, violence is addressed as one of the major building blocks of the scope and qualities of children's agency, limiting the social recognition of their rights as members of their respective societies.
Doris Bühler-Niederberger is Professor of Sociology at the University of Wuppertal, Germany. Her recent research projects and publications have concerned childhood as a domain of professional, moral and political interest and images of childhood and children in public and professional debates.
Lars Alberth is Research Associate at the Institute for Sociology, Leibniz University, Germany. His research comprises studies on symbolic fabrication of social categories through the lens of organizations and professions, especially gender and generation in child protection as well as social inequalities.