Books
The Holocaust/Genocide Template in Eastern Europe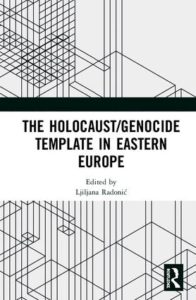 The Holocaust/Genocide Template in Eastern Europe discusses the "memory wars" in the course of the post-Communist re-narration of history since 1989 and the current authoritarian backlash.
The book focuses specifically on how "mnemonic warriors" employ the "Holocaust template" and the concept of genocide in tendentious ways to justify radical policies and externalize the culpability for their international isolation and worsening social and economic circumstances domestically. The chapters analyze three dimensions: 1) the competing narratives of the "universalization of the Holocaust" as the negative icon of our era, on the one hand, and the "double genocide" paradigm, on the other, which focuses equally on "our own" national suffering under Nazism and Communism; 2) The juxtaposition of post-Communist Eastern Europe and Russia, reflected primarily in the struggle of the Baltic states and Ukraine to challenge Russian propaganda, a struggle that runs the risk of employing similarly distorting and propagandistic tropes; and 3) the post-Yugoslav rhetoric portraying one's own group as "the new Jews" and one's opponents in the wars of the 1990s as (akin to) "Nazis."
Ljiljana Radonić heads an ERC project on "Globalized Memorial Museums. Exhibiting Atrocities in the Era of Claims for Moral Universals" at the Austrian Academy of Sciences (Institute of Culture Studies and Theatre History). Her habilitation dealt with the "World War II in Post-Communist Memorial Museums". She teaches at the Department of Political Science at the University of Vienna, Austria.
For more information, click here.