Books
Genocide Never Sleeps: Living Law at the International Criminal Tribunal for Rwanda
By Nigel Eltringham.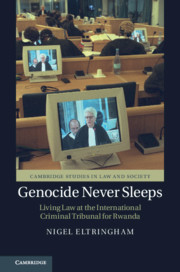 Accounts of international criminal courts have tended to consist of reflections on abstract legal texts, on judgements and trial transcripts. Genocide Never Sleeps, based on ethnographic research at the International Criminal Tribunal for Rwanda (ICTR), provides an alternative account, describing a messy, flawed human process in which legal practitioners faced with novel challenges sought to reconfigure long-standing habits and opinions while maintaining a commitment to 'justice'. From the challenges of simultaneous translation to collaborating with colleagues from different legal traditions, legal practitioners were forced to scrutinise that which normally remains assumed in domestic law. By providing an account of this process, Genocide Never Sleeps not only provides a unique insight into the exceptional nature of the ad hoc, improvised ICTR and the day-to-day practice of international criminal justice, but also holds up for fresh inspection much that is naturalised and assumed in unexceptional, domestic legal processes.
Nigel Eltringham is a Reader in Social Anthropology at the University of Sussex. He has written extensively on the aftermath of the 1994 Rwandan genocide. He is the author of Accounting for Horror: Post-Genocide Debates in Rwanda (2004); contributing editor of Identity, Justice and "Reconciliation" in Contemporary Rwanda (2009) and Framing Africa: Portrayals of a Continent in Contemporary Mainstream Cinema (2013). He served as Executive Secretary and then Vice-President of the International Network of Genocide Scholars, and has held visiting lectureships at the universities of Gothenburg and Cornell.
For more information, click here.