Books
Child Perpetrators on Trial: Insights from Post-Genocide Rwanda
By Jastine C. Barrett.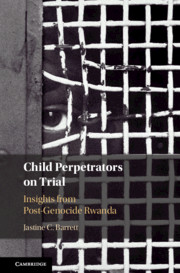 Following a devastating genocide in 1994, the Rwandan government elected to hold all perpetrators accountable – including children. Thousands of children were held in prisons while awaiting charges; some were later convicted. This book is about these children. Drawing on interviews and extensive archival research in Rwanda, it documents their journey through prisons, formal courts, gacaca proceedings or re-education centres. Its insights extend beyond Rwanda, looking at how international law protects children accused of even the most serious atrocities. The book is about law in action, and how states, and international organisations, operationalise international standards on child perpetrators in challenging post-conflict conditions. Engaging with theories from international law, international relations and anthropology, it illuminates strategies utilised by UNICEF to promote the rights of alleged child génocidaires and traces UNICEF's positive influence on their protection. It makes the case for principled pragmatism as an approach to human rights promotion in post-conflict societies.
Jastine C. Barrett is a UK-qualified lawyer and independent human rights consultant. She is currently an Honorary Researcher at Kent Law School, the University of Kent. She has served as Editor and Managing Editor for the Cambridge Journal of International and Comparative Law and on the management committee of the 'UK's Solicitors'.
For more information, click here.